H-Game
[H-GAME] Fox Girl's Naughty Inn JP Uncensored/Sin Censura + Google Translate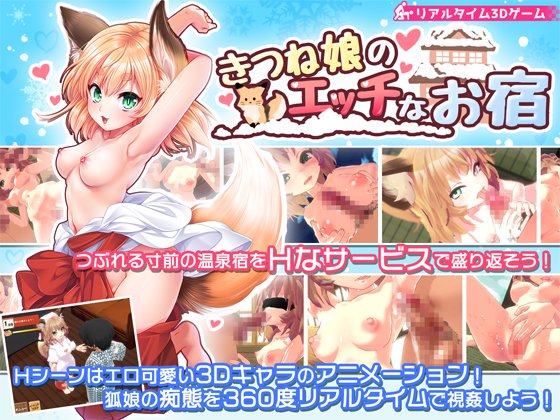 [H-GAME] [VN] OPPAICAFE My mother, my sister and Me English
* Synopsis
——————————————————————–
The whole thing happened a while ago at a hot spring inn in a certain rural village…
On a snowy day, an owner of an inn rescued a trapped fox.
Months later, the fox's wounds healed and she felt a debt of gratitude to him.
Her sincere want reached the god and the fox became a fox girl.
The fox girl's olfactory sense enabled herself to visit the man's
hot spring inn. There she found, however, that he was about to
die at that time. Although he was approaching his last breath,
he was only concerned with his hot spring inn that is in financial difficulties.
While his consciousness was fading away, he asks the fox girl
who appeared in front of him to rebuild his business.
Then he died. Knowing nothing about business strategies,
she started with searching for useful information in his room.
As a result, she founds a know-how book of the hot spring inn
management and a porn book themed on hot spring inn.
The two books made the fox girl to think in a way that
giving H services to customers will work out.
* Situations
– Kiss & hanjob service
– Blindfolded, fellatio service
– Sexual massage service
– Kiss & bed sharing service
– Sexually harassed by a drank customer & sex orgy party
– Penetrated and creampied while cooking
– Nyotaimori (food on a woman's body) in a party
– Sweaty gangbang sex in a sauna room
– Walking on massage > footjob with socks
– Cumdump service in restroom
– Anal sex in piledriver position
– Mating press of the benefactor's ghost!?
– Armpit licking and armpitjob
– Special course that includes services anywhere anytime
– Night prowling
– Giving fellatio to guests through a "shoji" screen
– Body washing play wearing a wet-through kimono in an open-air bath
– Lewdified and becomes a monster girl + Lewd emblem and sex with a virgin man
etc…
SAMPLE VIDEO

SAMPLE IMGS
DOWNLOAD GAME 

MEGA :
DOWNLOAD



MEDIAFIRE :
DOWNLOAD


*
INFO: You'll require a Japanese locale emulator to run the game
Requiere cambio de locacion a Japon
*Use Winrar 5 or upper
*Usar Winrar 5 o superior