H-Game
[H-GAME] Futanari Sexaroid MOMIJI English Uncensored/Sin Censura + Google Translate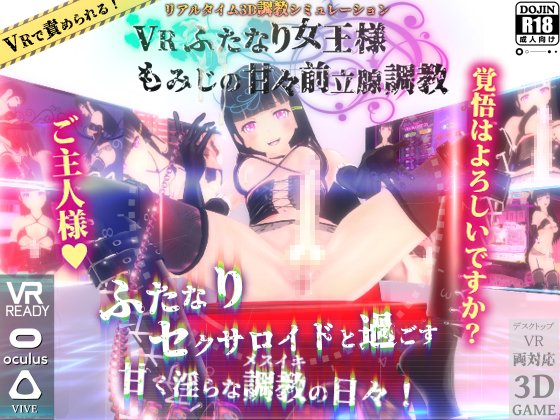 [H-GAME] Futanari Sexaroid MOMIJI English Uncensored/Sin Censura + Google Translate
* Gameplay
——————————————————————————————————-
[Dress-up Function Implemented (for both VR and non-VR)]
You can dress/undress her anytime, including before and during sex.
[FPS/TPS Toggle (for both VR and non-VR)]
In the FPS mode, you see the scenes from the first person point of view.
In the TPS mode, you can move the camera to enjoy the scenes from angles of your choice.
[Auto-camera Mode (only for non-VR)]
In this mode, the camera moves automatically like anime.
Please enjoy it hands-free.
[Dirty Word Choosing Pad (only for non-VR)]
By clicking the pad or using the numeric keypad, you can
choose what voice clip to be played instead of random playing.
[Realistic Responses to Your Actions (only for VR)]
She makes various responses to your acts of
touching, kiss and even looking at particular places.
[Automatic Switch between Controller and Hand (only for VR)]
When you get the controller close to her, it automatically changes to
a model of a hand to avoid lessening your feeling of immersion.
[Pose Mode & Photo Mode (for both VR and non-VR)]
You can customize your dominatrix with a variety of clothes, poses and expressions.
28x poses and 21 facial expressions are contained.
Take photos and save your own fap materials as many as you want.
CPU
Intel i3-6100 / AMD Ryzen 3 1200, FX4350 or greater
GPU
NVIDIA GTX 1050Ti /AMD Radeon RX 470 or greater
RAM
8 GB
SAMPLE IMGS
DOWNLOAD GAME NO-VR 

MEGA :
DOWNLOAD



MEDIAFIRE :
DOWNLOAD


*
INFO: You'll require a Japanese locale emulator to run the game
Requiere cambio de locacion a Japon
*Use Winrar 5 or upper
*Usar Winrar 5 o superior